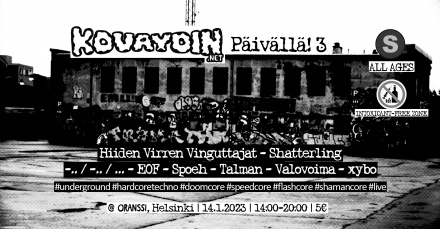 Ikärajaton ja päihteetön hardcore techno -tapahtuma päivällä Helsingin Suvilahdessa Oranssin tiloissa. Tapahtumassa kuullaan sekä paikallisesti tuotettua että paikan päällä luotua corea.
An intoxicant-free hardcore techno event for all ages in the daytime at Oranssi in Suvilahti, Helsinki. At the event both locally produced core as well as core music made on the spot will be heard.
Lineup:
-.. / -.. / …
Sankarillista mörköoopperaa.
Heroic groke opera.
EOF
Itä-Suomen algoritmipohjainen säveltäjä.
Eastern Finland's algorithm-based composer.
Hiiden Virren Vinguttajat
Shamanistista hardcorea.
Shamanic hardcore.
Shatterling
Synkkää, äänimaisemallista, hidasta ja raskasta.
Dark, atmospheric, slow and heavy.
Spoeh
Live-elektroniikan improvisaattori.
Live-electronics improvizer.
Talman
Vauhtia ja vaarallisia taajuuksia!
Speed and dangerous frequencies!
Valovoima
Uutta musiikkia 25 pitkäsoiton kokemuksella.
New music with an experience of 25 released albums.
http://valovoima.kovaydin.net
xybo
Uutta musiikkia suomalaisen hardcore technon pioneerilta.
New music from the Finnish hardcore techno pioneer.
Soittoajat / Timetable:
14:00-14:50 Shatterling
14:50-15:40 Valovoima
15:40-16:35 Spoeh
16:35-17:10 Talman
17:10-17:55 xybo
17:55-18:55 Hiiden Virren Vinguttajat
18:55-19:30 -.. / -.. / …
Sisään / Entrance: 5€
(vain käteinen, mielellään tasaraha / cash only, exact change, please)
Tapahtumassa noudatetaan Oranssin turvallisemman tilan ohjeita:
https://oranssi.net/2019/09/26/oranssille-omat-turvallisemman-tilan-ohjeet/
The event follows Oranssi's guidelines for a safer space: