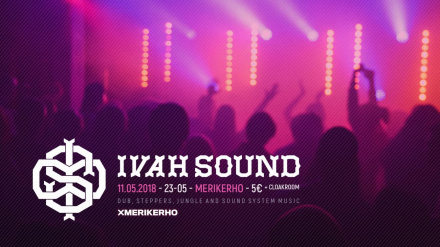 Everyone onboard to Merikerho on Friday 11.5. where Ivah Sound will take you on a musical adventure. Put one hand in ya pocket and one by ya side, it's time to walk and skank!
Focusing on bass music from ska, dub, digital to drum & bass, jungle and steppers we bring you into the ship, submerging us in sub bass vibrations with great drinks and warm vibes!
Welcome in joining us onboard!
➤ IVAH SOUND
Fyah I • JahTafarI • Prospero • Trey
The music Ivah Sound plays comes from the roots of sound system culture. Bass music with a conscious message; dub and jungle is what they love. Special dubplates together with singers and players of instruments, Ivah Sound shows are always full of energy. At this session the members of the Ivah Sound family will play both together and as solo artists; taking you all on an uplifting musical journey.
Ivah Sound - Taking sound system culture forward in Finland and beyond!
➤ Tickets 5€ at the door • 3€ Cloakroom fee.
Friday 11.05.2018 | 23:00-05:00 | Merikerho | K18