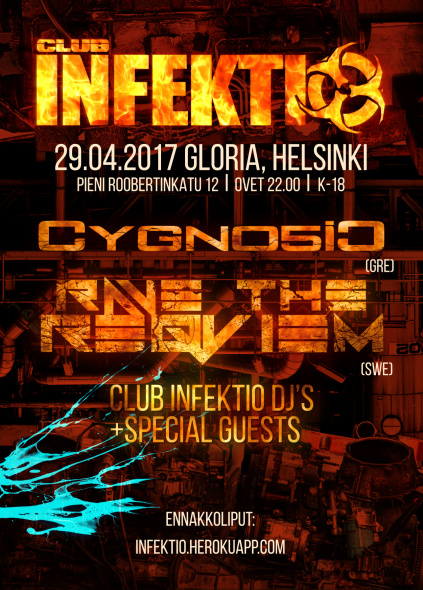 Tänä vuonna vapun juhlinta aloitetaankin jo lauantaina 29.4.2017!
Club Infektio ravistelee jälleen synkän konemusiikin kenttää, kun Kulttuuriareena Glorian lavan valtaavat kreikkalainen melodisen dark electron tähtiyhtye CYGNOSIC sekä ruotsalainen
omintakeista industrialmetallia paukuttava Rave The Reqviem.
Kaikkia aisteja hivelevän biletunnelman viimeistelevät Club Infektion DJ't ja Voeman Decotiimin näyttävät futuristiset uv-decot! Party like it's 2085!
Myynnissä rajattu määrä edullisia Early Bird -lippuja, hanki omasi NYT:
https://infektio.herokuapp.com/
Early Bird (rajattu erä): 12,50 €
Ennakkolippu: 15 €
Ovelta: 17 €
Kaikki hinnat sisältävät eteispalvelumaksun.
Tapahtuma on K-18.
Summary in English:
Club Infektio returns to shake up the dark dancefloors! On Saturday, the 29th of April 2017, Kulttuuriareena Gloria will be taken over by melodic dark electro provided by CYGNOSIC (GR) and industrial metal from Rave The Reqviem (SE)! The party is perfected by Club Infektio's DJs and futuristic UV decorations by Voeman Decotiimi! Party like it's 2085!
Get your limited Early Bird tickets NOW:
https://infektio.herokuapp.com/
Early bird (limited quantity): 12,50 €
Advance ticket: 15 €
At the door: 17 €
All the prices include the cloakroom fee.
K-18