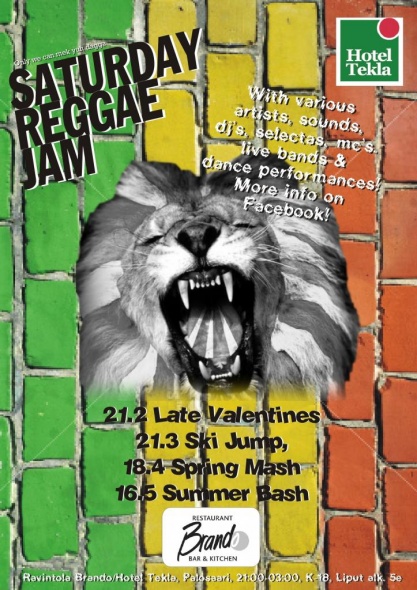 SATURDAY REGGAE JAM
LA / SAT 18.4.15 proudly presents:
SPRING MASH - KORKEE AIKA LIVE BAND (HKI)
& DJ Cue (VSA)
VAASA REBELS!
On ilomme ja kunniamme esittää teille ensimmäistä kertaa Vaasassa Helsinkiläinen Korkee Aika yhtye eli suomiräpin konkkari Sensei Pelan & rap-reggae artisti HenxXxeli duon. Vaasan keikalla taustalla on livesoittajatkin ja tämä freesi kokoonpano on yhtä freesi kuin heidän sanomakin. Yhtyeen omanlaatuisen reggae-rap-fuusion ansiosta yhdessä nousemme todellakin korkeemalle! Jah! // It is iz our honor and joy 2 present 2 yuh, fo di 1st tym eva in Vaasa, live reggae-rap fusion band fr Helsinki by name of Korkee Aika. Dis fresh & energetic vocalist duo and deir live band will definitely take us on a higher lever, if yuh kno wht we mean ;)
Band show time noin/around 24.00
Dekkien takana 21.00-02.30 / behind decks all nite long Djcue plays roots & culture // one drop // ragga // dancehall // hiphop & rap
BEST MUSIC, BEST PEOPLE, BEST PARTY IN TOWN!!!!!!
Welcome one & all!!!! ONE LOVE!!!!
Ravintola Brando/Hotel Tekla
Palosaarentie 58, Vaasa
Klo. 21:00 - 03:00
K-18, Entry 6e
Opskelijaystävälliset hinnat/Student friendly prices