DJ GAMMER (UK), WAILY & NOMIC -LIVE-, DJ BREADY & DJ SQUIBBIE (UK), SKITZOFRENIK, JNKS, DANIEL SCROYA, TORNADOZ, SASHA F, THE LARGE, EFIALTES, THERAPIST, SERINE, SCREECHER, JKA, SYNTSE, OZMA , VOLMARI, XELFER, XL8R

Do you have what it takes to be the meanest, the cruelest, the most sadist unforgiving motherfuckers in God's cruel kingdom?

We shall fucking see!

fri 29.03.'2013 MAYHEM PRESENTS: DJ GAMMER
22.00 - 04.00 @ Club Venue & Playground, Pohjoinen Rautatiekatu 21

Tickets: 14e (ex.fee)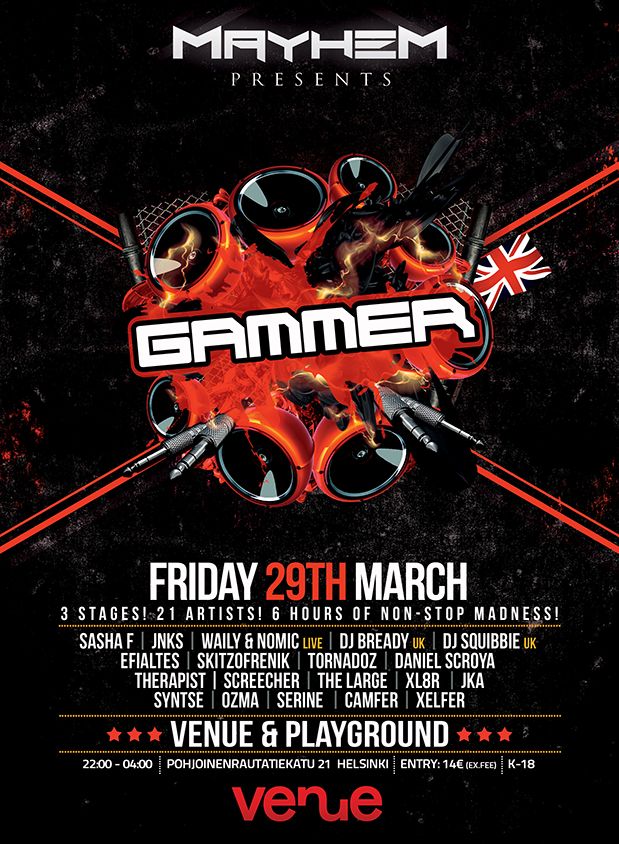 V E N U E - Mayhem Frontline.

DJ GAMMER (UK)
WAILY & NOMIC -LIVE-
DJ BREADY & DJ SQUIBBIE (UK)
SKITZOFRENIK
JNKS
DANIEL SCROYA
TORNADOZ

P L A Y G R O U N D - The Dugout. - Hosted by Distortion

SASHA F
THE LARGE
EFIALTES
THERAPIST
SERINE
SCREECHER

P A N O R A M A - Hosted By Harder.fi

JKA
SYNTSE
OZMA
VOLMARI
XELFER
XL8R

WE DARE YOU!