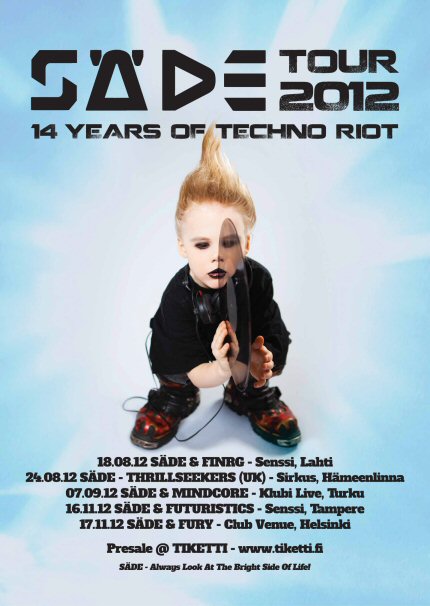 SÄDE Proudly Presents...



SÄDE TOUR 2012 - HELSINKI



SÄDE & FURY - CLUB VENUE 17.11.2012



14 Years Of Techno Riot - SÄDE celebrates 14th Anniversary and joins forces at the last stop of the tour in 2012 with one the leading Hard Dance event organizations in Finland - FURY!!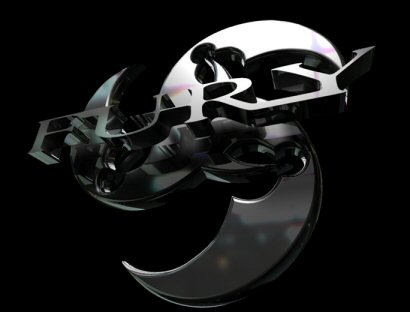 Säde & Fury proudly brings you from Atmosphere Recordings UK the leading Hard Trance producer at the moment - WRAGG - better known as Wragg & Log:One!!



WRAGG (WRAGG & LOG:ONE / UK)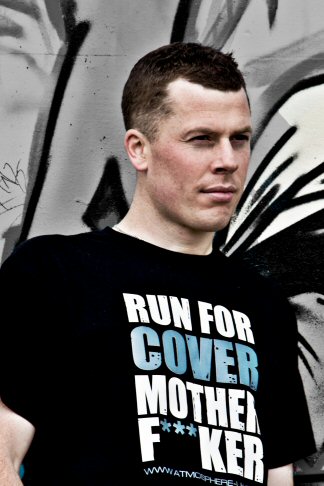 WRAGG (WRAGG & LOG:ONE / UK)


SÄDE ALLSTARS -

PROTEUS / NEON / FRIIK / TRITON / INCH / TRABA


EPYX & CYREZ LIVE (FINRG / Fury)


GALRAV vs SURREAL (Fury)


DJANE J7 (FINRG)


ILLUVIAL (Jnks / Hybridize)


PHENOXY vs COMBO (Tunemasterz)


SRTech LIVE (SamHard / Digitally Infected)


KRIS EMPIRE (Kriss G / Fury)





SET TIMES:


ROOM 1:

22:00-23:00 ILLUVIAL

23:00-23:45 DJANE J7

23:45-00:30 GALRAV vs SURREAL

00:30-01:30 WRAGG (WRAGG & LOG:ONE )

01:30-02:45 SÄDE ALLSTARS:

PROTEUS / NEON / FRIIK / TRITON / INCH / TRABA

02:45-03:30 EPYX & CYREZ LIVE


ROOM 2:

23:00-01:00 PHENOXY vs COMBO

01:00-02:00 SRTECH LIVE

02:00-03:30 KRIS EMPIRE





Light Jockey Simo Rask

Screen by VJ Move

Decoration by Säde & Fury


Official event photography by Timo Torvikoski Sessions2


Club Venue
Pohjoinen Rautatiekatu 21 Helsinki

K-18
Date: 17.11.2012
Open: 22:00-04:00

Penalty price:
From the door: 13e + narikka
Presale tickets at Tiketti: 10e + välityspalkkio/toimituskulut + narikka
http://www.tiketti.fi/Sade-Tour-2012-Venue-Helsinki-lippuja/17389


FACEBOOK EVENT:

https://www.facebook.com/events/421651127875620/?ref=notif&notif_t=plan_user_joined


JOIN THE OFFICIAL FACEBOOK PAGE FOR UPDATED INFO!!!!

https://www.facebook.com/pages/S%C3%84DE-TOUR-2012/416779611686006


Links:

www.atmosphere-uk.com
www.clubvenue.fi
www.djproteus.com
www.culbfury.org
www.djanej7.com
www.tunemasterz.fi
www.tiketti.fi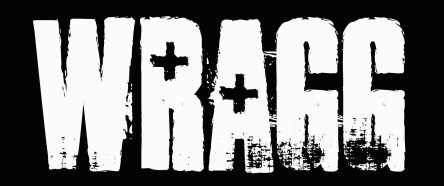 Since 1997 Wragg has immersed himself in every aspect of the Hard Dance scene from DJ to Producer, Label Owner to Promoter, all with the goal to spread his unique sound to the masses.
From humble beginnings organising his own events at small local venues, Wragg has carved a reputation within the Hard Dance scene which has seen him go on to play at some of the biggest event's in the world including Defqon 1 in both Holland & Australia, Q-Base in Germany, Dance Valley in Holland as well as the likes of Slammin Vinyl, HTID, Atmosphere, Bionic & Hardcore Heaven in his native UK.

Enjoying great success as a DJ for many years, Wragg moved into the world of production, teaming up with Log:One in 2005 to create the duo Wragg & Log:One who were one of the artists responsible for breathing a new lease of life into the Hard Trance scene through their dynamic productions, many of which are still considered anthems across the globe.

Now in the next phase of his career, Wragg continues to fly the flag for the Hard Dance scene through his solo productions and new collaborations with some of the biggest & best as well as pushing things further through his well respected Atmosphere Recordings:UK. Never scared to mix things up, Wragg's productions and DJ sets take influences from all forms of electronic music to throw into a melting pot of hard beats which create what is known as the 'Wragg' sound!

www.atmosphere-uk.com





SÄDE - PIONEERS OF FINNISH MADNESS - 14 Years Of Techno Riot!!


SÄDE will finally do the long waited and requested club tour in Finland during August - December 2012 ...after 14 years it was about f....n time!!!:)

Confirmed cities are Helsinki, Lahti, Turku, Hämeenlinna, Tampere...

SÄDE celebrates 14th Anniversary this year 2012 and we hope you will join us on this crazy ride!!!!

SÄDE - Finland's longest regularly running club/event for harder edge of underground dance music since 1998!

SÄDE is run by group of old time friends and pioneers in Finnish techno scene, especially in harder side of dance music; Proteus, Neon, Friik, Triton, Inch and new members Traba, Ravec Jone ja Juha Ahola.

*

Always look at the bright side of life...