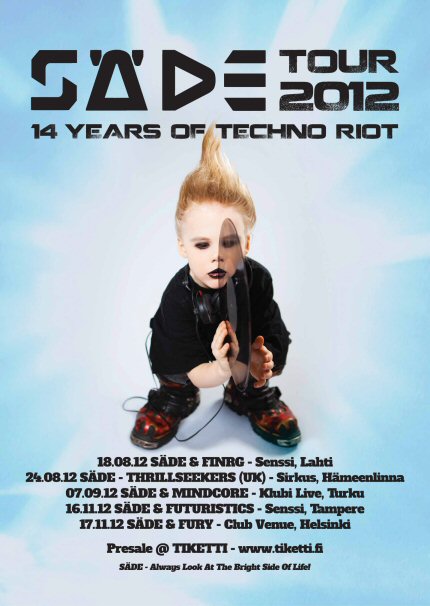 SÄDE Proudly Presents...



¤ SÄDE TOUR 2012 - TURKU ¤



SÄDE & MINDCORE - KLUBI LIVE 7.09.2012



14 Years of Techno riot - SÄDE joins forces with Finland's leading Hardcore group MINDCORE!!
No retreat no surrender... Welcome to the hardest party ever at Klubi Turku!!!



SÄDE ALLSTARS & MINDCORE DJ'S:


PROTEUS

CRISS

NEON

SKITZOFRENIK

FRIIK

WAILY

TRITON

ZERATHEP

INCH

THE LARGE



With our finest local DJ friend:


MEKHA (Turun Baletti)




SET TIMES:

22:00-23:15 Mekha

23:15-24:00 The Large

24:00-01:30 SÄDE Allstars - Proteus / Neon / Friik / Triton / Inch

01:30-02:45 MINDCORE DJ's - Criss / Skitzofrenik / Waily / Zerathep

02:45-03:30 SÄDE b2b MINDCORE - UBER Ultimate Extravaganza!!!




Light Jockey Simo Rask

Screen by VJ Move


KLUBI LIVE
Humalistonkatu 8 Turku
K-18
Date: 07.09.2012
Open: 22:00-04:00

Penalty price(including narikka):
From the door: 12e
Presale tickets at Tiketti: 9e + välityspalkkio/toimituskulut
www.tiketti.fi


FACEBOOK EVENT:

https://www.facebook.com/events/417255278297527/


JOIN THE OFFICIAL FACEBOOK PAGE FOR UPDATED INFO!!!!

https://www.facebook.com/pages/S%C3%84DE-TOUR-2012/416779611686006




SÄDE - PIONEERS OF FINNISH MADNESS


SÄDE will finally do the long waited and requested club tour in Finland during August - December 2012 ...after 14 years it was about f....n time!!!:)

Confirmed cities are Helsinki, Lahti, Turku, Hämeenlinna, Tampere...

SÄDE celebrates it's 14th Anniversary this year 2012 and we hope you will join us on this crazy ride!!!!

SÄDE - Finland's longest regularly running club/event for harder edge of underground dance music since 1998!

SÄDE is run by group of old time friends and pioneers in Finnish techno scene, especially in harder side of dance music; Proteus, Neon, Friik, Triton, Inch and new members Traba, Ravec Jone ja Juha Ahola.

*

Always look at the bright side of life...