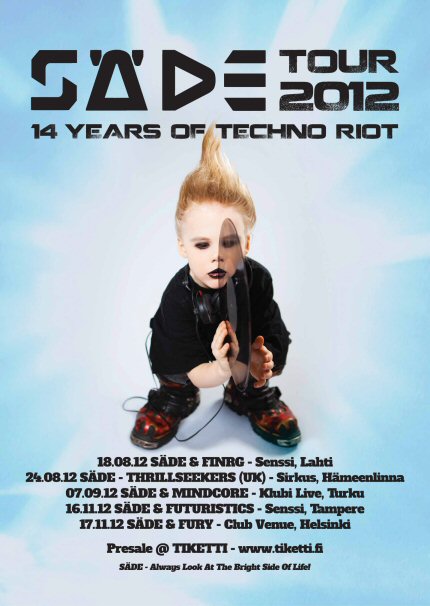 SÄDE Proudly Presents...



¤ SÄDE TOUR 2012 - LAHTI ¤




SÄDE & FINRG - SENSSI 18.08.2012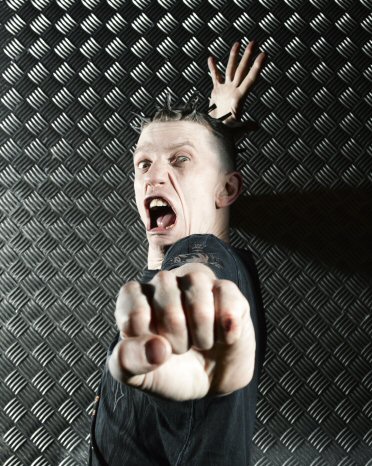 We bring you the one and only and the best - 'Anarchy In The UK'


MARK EG (UK / Blackout Audio)



'THE ORGINAL AND BEST!'

Winner of 'Best Compilation' and nominated for best UK DJ the 2011 Hard Dance Awards, winner of 'Best Hard Dance DJ' five times at the annual Hardcore Heaven Awards, if you think you've heard and seen it all, think again. With a unique, original and anarchic approach to music, Mark's fifteen year reign at the very top of the UK musical movement, has seen this critically acclaimed DJ, music producer and all-round lunatic lead the way when it comes to smashing down the barriers of sound.

From hard techno to hardstyle, from minimal to electro and everything in between, he has managed to carve himself a distinctive place deep within the minds of passionate music devotees the world over.

Couple this will his infamous and legendary stage antics (chainsaws, deck smashing - you name it!) and you get a DJ who holds a very special place in the heart of the global dance movement. There have been many imitators, but there is only one Mark EG!




MARK EG (UK / Blackout Audio)


SÄDE ALLSTARS :

PROTEUS / NEON / FRIIK / TRITON / INCH / TRABA


TYRANOID & STRONGSTREAM - LIVE (FINRG)

NOMIC - LIVE (FINRG)

SUBSTANCED (FINRG)

RX (FINRG)

HEATHEN (FINRG Sweden)

BIG MISTAKE (FINRG)

EEWOL (FEN Project)

BROTHERS IN TECHNO - (RAF / J-Gear / Traba)

YAYA (FINRG)

DECION (Koneradio)

OZMA (Harder.fi)

CHICO (Clubworks)




SET TIMES:

ROOM 1:

22:00-22:45 Big Mistake
22:45-23:30 Yaya
23:30-00:15 Tyranoid & Strongstream Live
00:15-01:15 Mark EG
01:15-02:45 SÄDE Allstars
02:45-03:30 Rx vs Heathen

ROOM 2:

22:00-22:45 Chico
22:45-23:30 Ozma
23:30-00:15 Brothers In Techno
00:15-01:00 Decion
01:00-01:45 Eewol
01:45-02:30 Substanced
02:30-03:30 Nomic Live




Light Jockey Simo Rask

Screen by VJ Move


Senssi
Hämeenkatu 16 Lahti
K-18
Date: 18.08.2012
Open: 22:00-04:00

Penalty price:
From the door: 13e
Presale tickets at Tiketti: 10e + välityspalkkio/toimituskulut
http://www.tiketti.fi/Sade-Tour-2012-Senssi-Lahti-Lahti-lippuja/16246


FACEBOOK EVENT:

https://www.facebook.com/events/156924617766209/


JOIN THE OFFICIAL FACEBOOK PAGE FOR UPDATED INFO!!!!

https://www.facebook.com/pages/S%C3%84DE-TOUR-2012/416779611686006





MARK EG (UK / Blackout Audio)

- DJ Since: 1985
- Producer Since: 1996
- Influences: Everything
- Winner 'Best Hard Dance DJ' (2003, 2004, 2005, 2007, 2009)
- Website: www.markeg.com
- Label: www.blackoutaudio.co.uk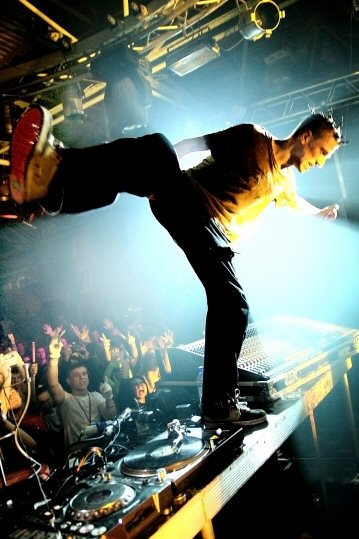 Mark's rise to fame began in the early 90's after his love for Chicago house, Detroit techno and acid house progressed into an unequivocal need to spread the word of Belgium techno, hard techno and also hard trance. After DJing for the UK's biggest rave parties of the time (Helter Skelter, Dreamscape etc) as well as working as PR for Re:Load, GPR and Proper Records, Mark became A+R for dance music giant Bonzai Records. He also turned his skills to journalism, editing the techno section for cult rave magazine Eternity. He soon became Assistant Editor for Wax Magazine and to this day writes record reviews for Tilllate Magazine and co-owns and edits Core Magazine.

Over the years, he's played in nearly every continent as well as some of the biggest and best parties the dance scene has to offer. Circuito (Brazil), Q Dance (Holland), Dance Valley (Holland), Q Base (Germany), Slinky (UK), Tidy Trax (UK), Planet Love (Ireland), The World Electronic Music Festival (Canada), Glastonbury (UK), Hardline 77 (Russia), Apokalypsa (Czech Republic), Club Cinema (Ukraine), HTID (UK and Australia), Fantazia (Scotland), Ground Zero (Holland), Frantic (UK), 3D/Hard Kandy (Australia), Drop Bass Network (America), Paradog (Slovakia), Technofest (Crimea), Country Club (UK), Slammin Vinyl (UK) it's an endless list that sees him playing an average of two to four gigs per weekend.

Mark produces music under various names (many of which are anonymous) but perhaps his most famous is with his partner Chrissi under The Anxious. With releases on established labels such as Audio Assault, ARMS, Compound, Planet Rhythm, Fine Audio and Submissions, their Live PA for Circuito in Brazil in 2005 became on of the most downloaded hard techno sets of all time.

Then there's his own techno record label Blackout Audio. With a release schedule that's seen releases from countless legendary techno producers including Inigo Kennedy, Glenn Wilson, Patrick Skoog and Chris McCormack, it's hardly surprising that the label website now boasts an online techno community of nearly 20,000 members.

Whatever your style, whatever your sound, Mark EG is one artist you don't want to miss out on. No hype, no bullshit, just music.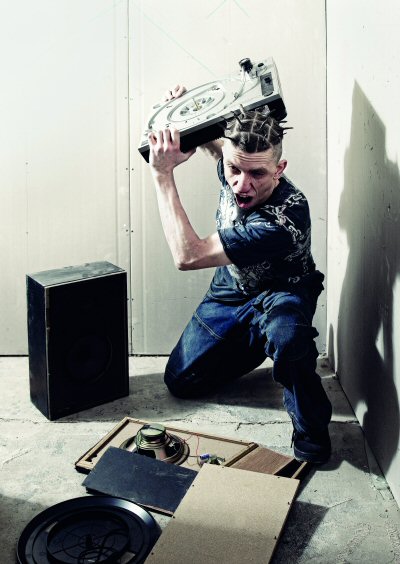 SÄDE - PIONEERS OF FINNISH MADNESS


SÄDE will finally do the long waited and requested club tour in Finland during August - December 2012 ...after 14 years it was about f....n time!!!:)

Confirmed cities are Helsinki, Lahti, Turku, Hämeenlinna, Tampere...

SÄDE celebrates it's 14th Anniversary this year 2012 and we hope you will join us on this crazy ride!!!!

SÄDE - Finland's longest regularly running club/event for harder edge of underground dance music since 1998!

SÄDE is run by group of old time friends and pioneers in Finnish techno scene, especially in harder side of dance music; Proteus, Neon, Friik, Triton, Inch and new members Traba, Ravec Jone ja Juha Ahola.

*

Always look at the bright side of life...