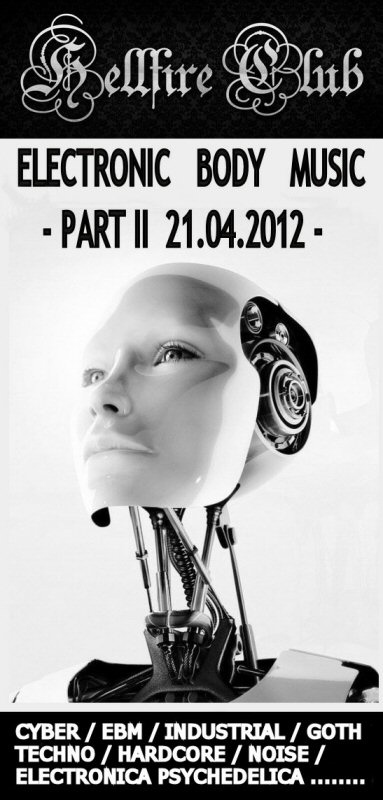 + HELLFIRE CLUB - ELECTRONIC BODY MUSIC - PART 2 +



21.04.2012 @ Club Venue Helsinki



Calling all Androids & Cyberpunks...

The ultimate EBM / Industrial gathering spring 2012!!




DJ TONI EISENFUNK (Eisenfunk / GER)


KUROSHIO - LIVE (Hellfire Club)


PROTEUS (Hellfire Club)

ZYNTHEXIA (Lumous / Redemption Club)

MAC HINE (Machine Park / Oldschool Union)

SHADES (Beati Mortui / Hellfire Club)

E-110 (110 Releases)

EMANON (Club Infektio)

OHMI (Elektrodeath)

FLAMBEAU (Club Radium)

MEKHA (Turun Baletti)

KRYOTECHNIK (Rauschenmaschine)

WORMWOODS (Beati Mortui / Clockwork Spirit)




MAINROOM:


DJ TONI EISENFUNK (Eisenfunk / GER)

KUROSHIO - LIVE

PROTEUS vs MEKHA

ZYNTHEXIA vs MAC HINE

SHADES vs E-110

EMANON vs FLAMBEAU



DARK CHILLOUT & INDUSTRIAL LOUNGE:


OHMI

KRYOTECHNIK

WORMWOODS



HELLFIRE CLUB SOITTOAJAT:

Mainroom:

22:00-23:10 Shades vs E-110
23:10-24:00 Emanon vs Flambeau
24:00-01:00 Toni Eisenfunk
01:00-01:40 Kuroshio Live
01:40-02:30 Proteus vs Mekha
02:30-03:30 Zynthexia vs Mac Hine

Industrial Lounge:

22:00-23:00 Kryotechnik
23:00-24:00 Ohmi
24:00-01:30 Wormwoods
01:30-02:30 Kryotechnik
02:30-03:30 Ohmi



Light Jockey Simo Rask

Screen by VJ Move

Official event photography by Tuure Kaunisto
http://Valotusvirhe.net

Club Venue
Pohjoinen Rautatienkatu 21 Helsinki
K-18
Date: 21.04.2012
Open: 22:00-04:00

Penalty price:
From the door: 10e
Presale tickets at Tiketti: 8e + bf(välityspalkkio/toimituskulut)
http://www.tiketti.fi/Hellfire-Club-Venue-Helsinki-lippuja/15232
+ cloakroom price



You can join our Facebook group for all updated info about future events:
http://www.facebook.com/groups/264303260311686/?notif_t=group_r2j

Facebook Event:
http://www.facebook.com/events/261492557265088/






CYBER / EBM / INDUSTRIAL / GOTH / TECHNO / HARDCORE / NOISE / ELECTRONICA / HARD DANCE / PSYCHEDELICA......