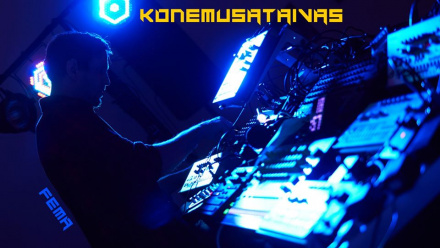 FEMA (Finnish Electronic Music Associatio ry) tarjoaa jälleen kattauksen ensiluokkaista lähikonemusiikkia Redissä. VAPAA PÄÄSY
CHOPS (LIVE) Tuoretta live-tuotettua luomu-electronicaa suoraan punavuorelaiselta pienstudiolta
Lihaisa mies (LIVE)
Tuhdimpaa tömistelyä ja aminohapokkaita bassolinjoja.
Arcdiv (LIVE)
Arcdiv esittää Tangerine Dream/Kraftwerk/Jarre/Italodisco/Synthwave/ym. vaikutteista synamusaa, mutta ei sitoudu mihinkään tiettyyn genreen.
https://www.youtube.com/playlist?list=PLSSVb97UQwHFmCn0CVrNVMce-JfGS8D-m
Monolith Resistor (LIVE)
Main influence is old 80's electronic music, like acid and electronic house. Other genres that the band plays belong to synthesizer classics, trance and robotic sounds.
SINI (DJ SET)
Sini has been tweaking the underground dancefloors into an unprecedented trance with her LIVE and DJ sets, that cause meditation on a level. DJ:ing since 2007. #psychedelic_techno_is_born
HUOM: Vapaakaupungissa ei myydä mitään, joten eväät ja virvokkeet kannattaa hankkia vaikkapa alakerran kaupoista.
#techno #acid #electro #synthwave #nudisco #electronica #tekno