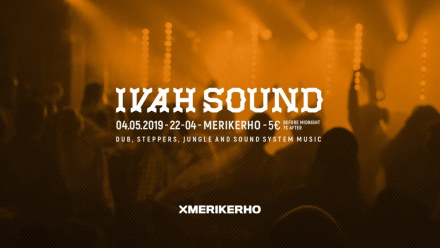 Step on board Merikerho and down into the echo chamber below deck to listen and enjoy a great selection of music focusing on dub, steppas, jungle and drum and bass.
✾ Dr.Ed Lion
Roots & Culture, Steppers, Vinyl only.
Selector Dr.Ed Lion has been active in Turku's reggae scene since 2003, known from clubs such as Reggaematic Live and Leijona Näyttää Kyntensä. Dr.Ed has also participated as a percussionist in various reggae groups since 1997.
✾ Ivah Sound
www.ivahsound.com
The music Ivah Sound plays comes from the roots of sound system culture. Bass music with a conscious message; dub and jungle is what they love. Special dubplates together with singers and players of instruments, Ivah Sound shows are always full of energy. At this session the members of the Ivah Sound family will play both together and as solo artists; taking you all on an uplifting musical journey.
Ivah Sound - Taking sound system culture forward in Finland and beyond!
➤ 4th of May 2019, 22:00-04:00 at Merikerho
➤ Tickets 5€ before midnight and 7€ after *cloakroom not included
ツ
We want our parties to be safe and open for everyone, free from discrimination and harassment. Always respect the borders of yourself and others.