P S Y N I G H T !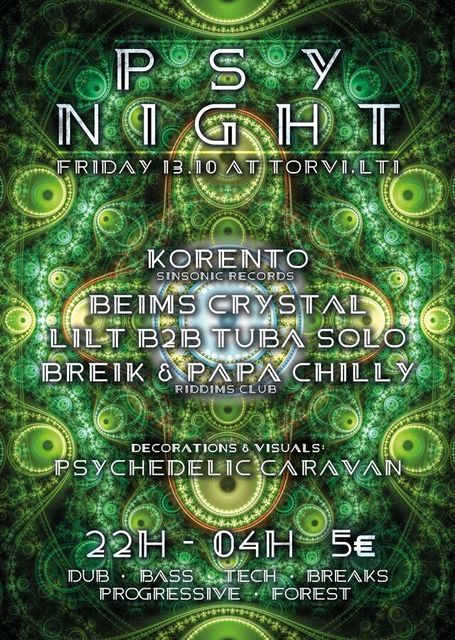 Friday 13.10.2017 @ Ravintola Torvi, Lahti
Showtime: 22:00-04:00
Entry: 5€
Lineup:
KORENTO [Sinsonic Records]
https://www.mixcloud.com/jenni-korento/
https://www.facebook.com/djkorento/
BEIMS CRYSTAL
https://www.mixcloud.com/beimscrystal/
LILT
https://www.facebook.com/Dj-Lilt-770292446347133/
TUBA SOLO
https://www.facebook.com/tubasoolo/
BREIK [Riddims Club, Kosmos Festival]
https://www.facebook.com/deejaybreik
PAPA CHILLY [Riddims Club, Vihreet Linjat]
https://www.facebook.com/djpapachilly
Decorations & Visuals:
PSYCHEDELIC CARAVAN
https://www.facebook.com/psychedeliccaravan
(Dub, Bass, Breaks, Tech, Progressive, Forest etc.)
---
Timetable:
22:00-23:30 Breik & Papa Chilly
23:30-01:00 Lilt b2b Tuba Solo
01:00-02:15 Beims Crystal
02:15-03:30 Korento
Bio:
KORENTO
Dj Korento aka Jenni Korento is a DJ from Finland, with 14 years experience in Psy-Trance, working behind the scenes at various events. Her first gig was in 2010, after she received an invitation to play by the collective for creative woman known as 'Bitch'.
Over the past few years, her DJ career has taken off thanks to her full on energy and track selections. Korento best describes her style as, groovy, intelligent and uplifting with a slightly dirty edge. Recently, she has started to fulfil her dreams to travel as a DJ, with her debut international gig in 2014 at '20th Vortex Parallel Universe', in South Africa, followed by Shankra Festival in Switzerland. Latest adventure reached all the way to Brazil/Respect Festival. Korento has a DJ residency with event organisers 'Aura Electronic Music' and also represent music label from Switzerland, called Sinsonic.
BEIMS CRYSTAL
Beims Crystal is a Finnish DJane who has a strong musical background as a classical piano player and as a music lover. Going through numerous UG parties in the electronic music scene since 2007 she started to interested in DJing in the early 2011.
She loves to play some energetic and groovy sets with drum & bass, deep house and psybreaks vibes.
LILT
1. rhythmic swing or cadence.
2. a lilting song or tune.
3. to sing or play in a light, tripping, or rhythmic manner.
TUBA SOLO
Tuba Solo s a storyteller. She likes to use many different art forms to expose her inner world and passions. As a Dj she doesn't like just playing some random tracks in a row, but wants to create magical moments for her audience with the most powerful form of communication. Her motivation comes from willing to try new so she plays many different styles but mostly likes uplifting groovy tunes with strong and nasty bass lines.
BREIK
Started to Burn down Babylon's walls at Punky Reggae Party club in 2002 in Helsinki. Dj Breik presents bass sound with reggae, dubstep and roots ragga-jungle with a bit of psy. Now as a crew Dj for RIDDIMS, AURA and People Of The Butterflies in Finland.
PAPA CHILLY
Papa Chilly alias Aki Rujala started djing in the late 90's by playing all kinds of music like reggae, trip hop, hip hop, dub, dnb and electronic dance music. He's been actively performing all across Finland since 2004, and organizing events in his hometown Lahti since 2000. He is also a founding member of the group Savusound. Papa plays a selection of reggae, dub and dubstep, not forgetting ragga jungle, drum & bass and exclusive Savusound dubplates. His sets are versatile and guaranteed to make you move your feet.
Friday 13.10.2017 @ Ravintola Torvi, Lahti
Showtime: 22:00-04:00
Entry: 5€
Welcome and enjoy!
Naturally good vibes!