Rex Terrazza with TONY JAGUAR & Matt Stellar
kotisivu
perjantai 10.8.2012, 20 - 02, K18, 3€

@

Bio Rex, Lasipalatsi / Helsinki



TONY JAGUAR (JOIA Records, HelsinkiVibe)
Matt Stellar (HouseAGENDA, Ahjo)
Tiberiuz & Alec Hall (Rex Terrazza, Afecto DJs, Spin FM)


house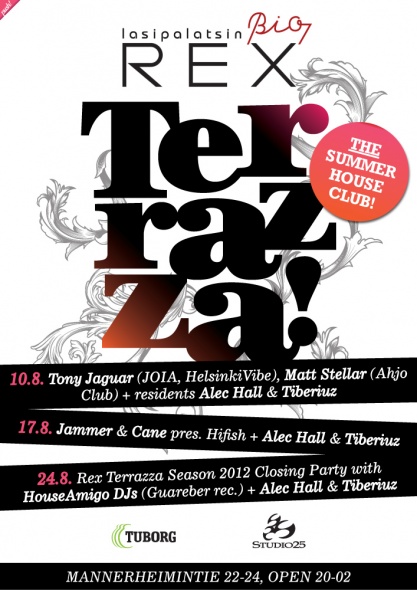 Rex Terrazza jatkuu viikon tauon jälkeen perjantaina 10.8.

Elokuun ensimmäiseen Rex Terrazza -iltaan saapuvat vieraaksi Suomessa kovassa nosteessa oleva dj/tuottaja Tony Jaguar, sekä Ahjon HouseAGENDA klubin takana oleva Matt Stellar!


--Info--

Aika: Perjantai 10.08.2012
Tapahtuma: klo 20-02
Sisäänpääsy: 3€ (sisältää eteispalvelumaksun).
Osoite: Bio Rexin terassi, Mannerheimintie 22-24
Tämän vuoden Rex Terrazzan virallisina yhteistyökumppaneina toimivat URBAN LIFE™, STUDIO25™ (City Center, HKI), sekä TUBORG™!

Sekä Afecto DJ:tten radio show "Love Of House, Spin FM:llä!

https://www.facebook.com/Studio25Finland
https://www.facebook.com/Studio25Helsinki
http://www.sinebrychoff.fi/
http://www.spinfm.fi/#/shows/afecto-djs-pres-love-of-house

Line-up:

TONY JAGUAR (JOIA Records, HelsinkiVibe)

http://www.djtonyjaguar.com/
https://www.facebook.com/TonyJaguarMusic
http://www.twitter.com/tonyjaguar
http://soundcloud.com/tony-jaguar

Matt Stellar (HouseAGENDA, Ahjo)

http://mattstellar.com/
http://soundcloud.com/mattstellar

Tiberiuz & Alec Hall (Rex Terrazza, Afecto DJs, Spin FM)

[https://www.facebook.com/rexterrazza]
[https://www.facebook.com/djtiberiuz]
[https://www.facebook.com/djalechall]
[https://www.facebook.com/afectodjs]

SOUNDS BY: L'ACOUSTICS


Tony Jaguar

DJ and producer Tony Jaguar has the strong passion for house music. Born in finland and started producing house beats early 2008. From jackin ́ tech-house to techno tracks & remixes Tony is already supported by some of the best names in scene such as: Umek, Denis the Menace, Marco Lys, Nicky Romero, D.O.N.S., Dom Kane, Manuel De La Mare, Kid Massive, Syke'N'Sugerstarr, Chris Montana, Tune Brothers, Jesse Voorn, Sebastien Lintz & more!
Tony is also part of a studio community called Helsinkivibe with the country's biggest dance stars, Anjunabeats heroes Super8 & Tab, plus Heikki L and Something Good – the biggest studio in the country!

TonyJaguar has released tracks & remixes on few major labelś like the legendary JOIA Records, Hotfingers/303, Housesession Records, S2G Production, PM Recordings, Le Club Records, Festibalazo Records.







Nähdään Helsingin siisteimmällä terassilla house-biittien tahdissa!
lisätty 8.8.2012 02:08 (Rex Terrazza)


suosikki (4, keskiarvolla 47v):
AfectoDeejays, Gere_C, Rex Terrazza, tiberiuz
perjantai 10.8.2012
fly
Fresh and Juicy!!! @

Ravintolalaiva Donna




Dj Delta F




house

Turku
fly
-SIDETRAX- @

Bar Isoroba 10




DJ MiO LOONEY HULMI [Soundphonia, Varasto61]




experimental, house, techno

Helsinki
fly
Findustry Tampere @

Tampere, YO-talo




Zynthexia, emanon




industrial

Tampere
fly
Distortion presents "The Magic Show" @

Club Venue




Juized (NL), Tartaros (NL), Kevin Kaos (NL), Sasha F, The Large, Efialtes, Therapist, Screecher, Serine. DJ Rx, Leo Laker, Yediah, Skitzofrenik, Daniel Scroya, Tom Volt, CRS, Toni L, Graffioso




hard

Helsinki
fly
UPM11: Mataifa @

Voodoo Room




Lesi, Axtradamus, Er Ror, The Big Red One, Clamor




experimental, house, techno

Helsinki
fly
Housemania @

Sirkus




Milla Lehto (Aces, After Hours, Fade) R3ino & Polarflash (HouseMania, EtD) Sam & Jon (HouseMania)




house

Hämeenlinna
fly
Futuristics & Harder.fi SUMMER MASHUP @

Club10




Ozma & xl8r -- electro special Substanced vs. Alchemiist -- Special b2b live ensimmäistä kertaa! Tyranoid nocomply RAF Tremont MacDethix DJ's Noble Jr.




breaks, chill, experimental, hard, industrial, house, techno, trance

Tampere