WE ARE YOUR FRIENDS - with Oded Peled, Ais-T & Italo Sami
lauantai 4.2.2012, 22 - 04, ilmainen

@

mbar / Helsinki

kotisivu

Oded Peled (Misc, Basso, Love)
Ais-T (Music People)
Italo Sami (Unity Collective)


chill, disco, house, oldskool, techno, urban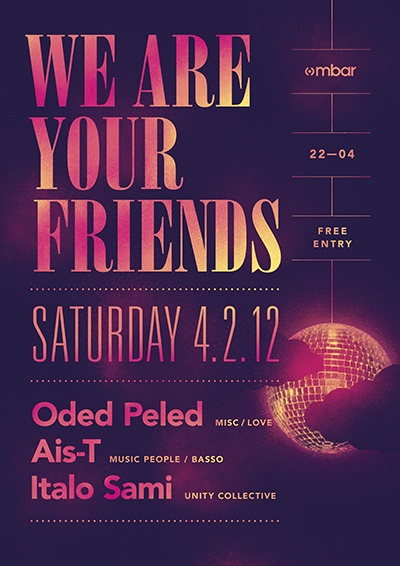 Oded Peled, head honcho of Misc Management and long time Basso Radio host, has invited two of his friends and long time music lovers to join him on another lovely mbar Saturday night. Even in these cold times, their music will surely make you feel warm inside.

Ais-T is a true music addict. He speaks about artists and new music as often as your little sister talks about Facebook. As part of The Music People he has spread his love for deep, black and extremely moving music on Basso Radio and many venues around Finland.

Italo-Sami, is another addict. He can't stop listening, collecting and playing disco tingled music, topped with only the best Italian spices. As a part of The Unity Collective, he has been a part of the legendary Unity and Love events and has a super power, which is to spread a big fat smile on everybody's faces.

So join us for a drink, dance, smile or a hug. Because we are your friends!
lisätty 17.1.2012 13:01 (Misc Management)


suosikki (1):
Misc Management
lauantai 4.2.2012
Playground Saturday Morning Afterparty @

Playground




Paul Easy (After Hours, Clinic) Miniloq (Beats Per Minute) Nikiki




house, techno

Helsinki
Notic Nastic cut&paste-festivaalin jatkoilla @

Kulttuurikeskus Korjaamo





experimental

Helsinki
RENEGADE -Hospitality Helsinki w/ BORGORE, NETSKY, HIGH CONTRAST @

Circus




BORGORE Buygore IL NETSKY Hospital UK HIGH CONTRAST Hospital UK MC WREC Hospital UK MUFFLER Hospital | Renegade L.A.O.S. Hospital | Renegade MC ALEXX L.a.o.s. REEFER MC Renegade




breaks, drum'n'bass, hard, industrial

Helsinki
fly
BEYOND_BASSIXX @

SUISTO




KUMIPUU,GÖK,K-LEVI,NONOTECH,MICROBEING




breaks, experimental

Hämeenlinna
Metsäväiset - Levynjulkkari @

Alakerta, Nosturi




Metsäväiset Whyi Kerpo Mullets




industrial

Helsinki
fly
SYN/PSI @

Ravintolalaiva Wäiski




aQi (Kuroshio), Shades (Beati Mortui)




industrial

Helsinki
Flight & Wispy - "The sweetest music in town." @

Café Europa




Flight [Romance, Misc Management] Wispy [Steps, Plauge]




chill, drum'n'bass, house, techno

Tampere
fly
Yona & Liikkuva Pilvi + Dj Aksim @

Bar Lafka (Tikkurila)




Aksim (Kemmuru, Basso Radio)




chill, industrial, oldskool, urban

Vantaa
fly
K-SYSTEM Presents: GLOW PARTY TOUR 2012 - ROVANIEMI @

Onnela




K-SYSTEM +supports




house, trance

fly
BODYPUMP @

ROSKA




Janne X, Marry Me




disco, urban

Helsinki
CLINIC 4 YEARS ANNIVERSARY with JEROME ISMA-AE (GER) @

Venue




JEROME ISMA-AE (Jee Productions, GER) Orkidea (Jack, Unity, LOVE) Paul Easy (Clinic, After Hours) Concha K-Fold TBA




house, techno

Helsinki
fly
Goa ja Teknoluola @

Playground




Eraser (EvsY) Live (Faerie Dragon) Scooter Baba Live (Mullet Mohawk) Hypno Live (Re-Animator) Biopolar Live (Quo Messiah) Lumbabumba (Matruusi) Apo (Entropy) Kolina (Entropy) Huhtis (Entropy) Peter Pan vinyl set (Entropy)




house, oldskool, psy, techno, trance

Helsinki
fly
ROUND #30 @

seurahuone night




Jori Hulkkonen




disco, house, techno

Lahti
fly
Brainbashers: 2012 Tour @ Oulu @

Kuusisaari




62 (live), Bass X, DoomsDay Sounds (live), Jamqpa (live), Psydog, RujoNic, Safe Vodka, Shatterling (live), Stak Etop, TimC, Zutsuu|Teknoaidi (live)




chill, drum'n'bass, experimental, hard, industrial, psy, techno, urban

Oulu
rubiX vs. Superbad @

Teerenpelin Vintti




Homegrove (Superbad) Juksu (Superbad) John Major (rubiX) nenna (rubiX)




house, techno, urban

Turku
fly
It's Cookin' @

Ravintola Helmi




Rauha Trio DJ's, Lovroc, Miky Mau & Derailed



Helsinki
fly
Visions @

Bassment




Nip one Sebas Audacious Jaago




house

Helsinki