L I Q U I D | C R Y S T A L | S O U N D S + 'BAR LOOP' pres: "Re
kotisivu
lauantai 15.11.2008, 21 - 03, K20

@

BAR LOOP, Fredrikinkatu 42 / Helsinki

kotisivu

STEPHEN PORTER (IRELAND)
HOMEGROVE (FIN)
PROGRESSION (UK)
ALI KING (NI)


, elektro, house, trance, techno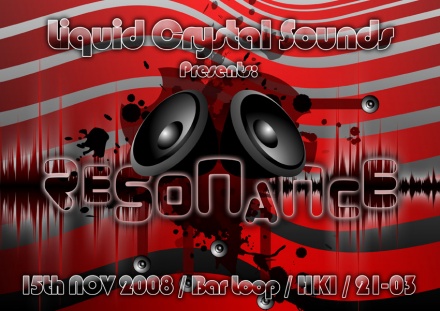 Liquid

|

Crystal

|

Sounds

pres ::

"Resonance"



Back with a bang, Liquid Crystal Sounds takes over Bar Loop for another helping of its underground sound. November 15th 2008 will see Ireland's "STEPHEN PORTER" carve his mark into the Helsinki crowd. With a unique style nurtured over his extensive 15-year DJ career, expect something very different and very original. Stephen has seen it all with experience DJ'ing alongside some of the world's top jocks in a whole host of countries.

John Digweeds little brother "HOMEGROVE" will be joining the LCS lineup too. This rising Raumalainen star is the perfect match for Porter. One thing's for certain: there proves to be a deep and seamless night of high-end mixing on the menu. British backup comes from DJ's Progression and Ali King who will be warming the evening up with some tasty appetizers.

We hope to see you all on November 15th... So grab a tram, get a train, or meander through the metro! Whatever it be… get down, have a drink and feel the deep rolling basslines 'Resonate' from the Bar Loop sound system!




STEPHEN PORTER (IRELAND)


[Inertia-Ireland] [Jika-Jika] [Karran&Porter]
http://www.myspace.com/karranandporter
http://www.myspace.com/inertiaireland
http://www.myspace.com/jika_jika
"Stephen Porter's DJ career is almost 15 years strong. Stephen is a co-promoter and resident DJ for "JIKA JIKA!" and is also the founder of one of Northern Ireland's most established house club nights "INERTIA", which has been running in Derry since 2000. As well as DJ'ing all around Ireland spinning at clubs such as Lush, The Pod, Stiff Kitten and Yello, Stephen has DJ'ed in various other countries including Mexico, USA, Finland, Poland, Estonia, Sweden, South Africa, Spain, Holland & everywhere in between. He has shared line-ups with the likes of SASHA, JAMES ZABIELA, Funk D'Void, Rui Da Silva, Craig Richards, Nick Warren, Anthony Pappa, Paolo Mojo, Futureshock, Desyn Massiello, Lottie, Paul Woolford, James Holden, Jimmy Van M & Lee Burridge to name just a handful."
Homegrove (FIN)

[Further]
http://www.myspace.com/homegrove
Progression (UK)

[LCS] [Millennium]
http://www.myspace.com/djprogression
http://www.virb.com/djprogression
http://www.liquidcrystalsounds.com
http://www.millennium.fi



Ali King (N.I)

[LCS] [Solstice]

http://www.myspace.com/letnomanjack
http://www.liquidcrystalsounds.com



___________________________________________________________
lisätty 7.9.2008 19:09 (Progression), 15 muokkausta, uusin 5.11.2008 14:11


suosikki (37, keskiarvolla 32.1v):
2longAndy, akiapina, AliCat, Anny, bileile, Chantola, Cloud 9, Homegrove, jaywink, Josssu, Kipinä, Kriz, LaHna, laite, Late, Lilly, Liquid Crystal, littlemike, Long John, Maina, Mark Kinnier, Miniloq, nenna, Nitta, OCS, Papa Lazarou, PetriT., ^Petunia, Progression, reb, sapeli, *sarah*, Syce, Timce, Tony Profondo, yana, Yasin
lauantai 15.11.2008
:::: RUSKA KLUBI :::: @

Panimoravintola Mallaskoski / Seinäjoki




Oden,Lazy-James,Boletus,J-Raven,ValoD




chill, drum'n'bass, house, reggae, soul,

RanDoM SoUndS @

Bar Hiutale, Punavuori




Terva, Helmut Pilotti & Dj Who Cares(Aka Papay/Freestyle Fellows)




, breaks, chill, disco, drum'n'bass, elektro, urban, house, reggae, r'n'b, soul, techno, jotain

Helsinki
Renegade presents PENDULUM & NOISIA final info here!!! @

Voimala




PENDULUM (AU, dj), NOISIA (NL), MC ID (Friction UK), MUFFLER [Renegade], MILLA LEHTO [Renegade/Pussy], INFEKTO [Renegade], BURMA [Renegade], DEL [Drumz], LAOS [Standard], XPLOITEC visuals. Afterparty, ELIOT NESS [reiv:], MILLA LEHTO [Renegade], GENKI [Renegade], RICO TUBBS, PHYSICS, JAYWINK, VERTIGO [cdr]




drum'n'bass, elektro

Helsinki
CLUB HAVANA @

free / ravintola club HAVANNA music - eerikinkatu 27




DJ THE CUBAN AMBASSADOR




jotain

Helsinki
DEEP & DELICIOUS @

Beatroot




Tene, Arash




, house, techno, jotain

Helsinki
fly
ELEKTRON: The Millioners, TV-Off, Lax Röda @

Korjaamo




Live: The Millioners TV-Off Lax Röda JEKS Viihde presents: JEK & MULTIPASS DJ-SET DJ Peter Venkman + SUPRISES VJ EGON SPENGLER




elektro

Helsinki
Texno Pistoleros w/ Ville Vähäsaari (DiskoTeknoKollektiv) & J.Ku @

mBar




Ville Vähäsaari (DiskoTeknoKollektiv) & J.Kusti (Basso Radio)




, house, techno

Helsinki
IMPULSE 2008 - The 6 Year Birthday Rave @

Cumulus Nightlife




RX (Finrg), POLIISI (Clinic), ALEK SZAHALA (Finrg), ORION (YleX, Misc Management), ANTON SONIN & AMX (High Contrast Recordings), BAY CITY STOMPERS (Millennium), VJ Move (Säde, Finrg)




breaks, drum'n'bass, elektro, hard, house, psy, techno, trance, jotain

Lahti
Stadia @

Kolo, Klubi




Seoul, Matlåck & Juksu




, disco, house, techno, jotain

Turku
@ Ahjo @

Ahjo




Spoogy (BAD HABITS)




elektro, house, trance,

Helsinki
Cosmic Dance at Redrum with Mr.A & Lil' Tony @

Redrum




Mr.A & Lil Tony




house, techno, jotain

Helsinki
[reiv:] tanssiaiset Milla Lehdon & Wiljamin johdolla! @

Rose Garden




MILLA LEHTO - progressive / tech house DJ WILJAM - exclusive tech house/minimal set for the first time N. GESELLE




disco, elektro, house, trance, techno

Helsinki
TRANCE AT DARK NIGHT PART VI @

Nightclub Comeetta, Kontulan Ostoskeskus, Keinulaudankuja 4,Helsinki




SERGEI SHKUROFF (Armada Records) DJ TRITON (Säde) DJ NEON (Säde, Trance At Dark Night, S|deffect)




hard, trance, jotain

Helsinki
NS.KLUBI + Sievä DJs @

Blaze2B




Silli, Israel, Rocco, Naksurbator, Alfa-Ville, Jace of Base




jotain

Jyväksylä
Club 96 Most Wanted vol.4 - Top Billin Sexytime @

Club 96°




Fiskars, Flipperi




elektro, urban, house, jotain

Kajaani
JESSE live! DJ Pataässä @

Amarillo




JESSE live!! DJ PATAÄSSÄ (Round, LTI) http://www.myspace.com/haistakaa http://www.myspace.com/djpataassa




breaks, elektro, urban, house, techno, jotain

Mikkeli
Oulu Southside Underground: VILLA NAH LIVE @

Club HTC




Levyjen ääressä häärii: Dj Barfunkel (Rovaniemi) Dj Coultier (Oulu)




, disco, elektro, house, soul, techno, jotain

Oulu
ROMANCE | Season Closing | Little Christmas Celebration @

Laterna & Valo




JAY MELLIN [hed kandi / screen] MARKUS S. [liQuid / northern palz] FLIGHT [resident] PLAUGE DJ's: Herman Prime Åke Kanaria Dalion




, house, trance, soul, techno,

Tampere
fly
Fregature Produzione presentare: ITALOL @


Gianluigi Coglione (ITALY), Giorgio Grassone (ITALY), Lorenzo Stronzo (ITALY), Marcello Magnaccia (ITALY)




disco

Turku
X-Rust PERUTTU! @

UG




TBA




acid, elektro, house, experimental, techno, jotain

Turku